It was the year before Oklahoma entered the Union, and in the recent past, the Mexican War had delivered Texas, New Mexico, and California territories to full United States control. For Mexico's trouble, the U.S. paid them fifteen million dollars.
The securing of new territories meant a further flooding of settlers into these areas. The bison were wiped out and the Native Americans were relegated to reservations (but only in those parts of the state whitey thought was less desirable). Leading up to 1906, there was increased concern that looters and vandals were going to desecrate the archeological objects and structures found on various sites, and President Roosevelt set out to protect this land.
And so the Antiquities Act was born, but you can call it 16 USC 431-433 for short. This act gave the sitting president full discretion to declare a National Monument of any historic landmarks, structures, or objects of historic or scientific interest.
Theodore Roosevelt's Antiquity Act language goes like this:
… any person who shall appropriate, excavate, injure, or destroy any historic or prehistoric ruin or monument, or any object of antiquity, situated on lands owned or controlled by the Government of the United States… shall, upon conviction, be fined in a sum of not more than five hundred dollars…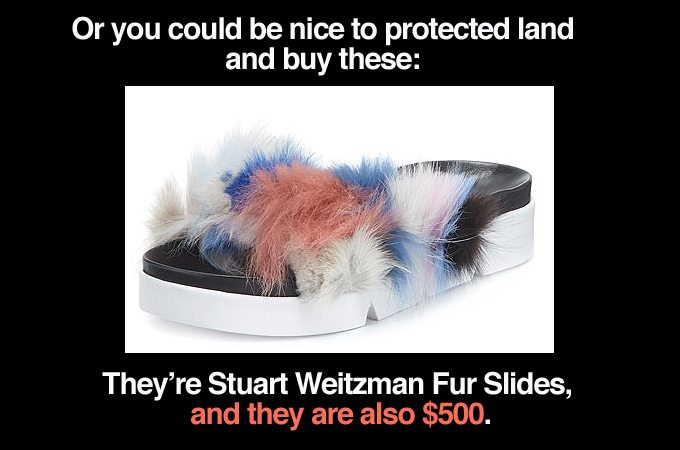 The Antiquities Act language has changed a bit since those early days, and twice there has been a reduction in presidential power for specific cases (Wyoming and Alaska now require congressional consent). The act has been used successfully 157 times by 16 presidents from Teddy to O'Boyfrend — but it's faster to name the presidents who didn't designate a National Monument: Richard Nixon, Ronald Reagan, and George The Father.
Even Doubleya named three marine National Monuments protecting coral reef ecosystems:
The National Monuments designation is often the first stop in converting the land to National Parks — and that is done with the help of Congress. An example of such a conversion is the Grand Canyon.
In the 111 years of the Antiquities Act, no president has ever stripped National Monument land established by a previous president.